Because everyone should have a Bible they love and adore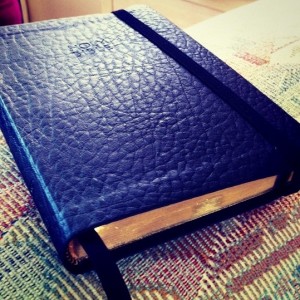 For those that are part of the underground culture of MOLESKINE ®, and want to have more than just a notebooks in the iconic MOLESKINE ® style.
This Bible is the perfect size, small enough to carry everywhere, and large enough, that it has a comfortable readable font, at 6 pt. It is made of soft faux leather which feels great in the hand, and includes:
Explanatory footnotes and translation notes
Introductions to the books/ sections of the Bible
Words of Jesus in red
A one year Bible reading plan
A Concordance – references to words (like an index)
Full color maps
Size: 4.70 x 7 x 0.90 (Inches)
Soft cover
Lifetime publisher guarantee
Black, with gold edges.
Perfect for a special gift, for a friend of loved one, for a baptism present, or for your daily travel companion.
One Moleskine Bible: $89
Two Moleskine Bibles: $165
Three Moleskine Bibles: $230
Send an email for orders
 Moleskine S.r.l. has no relation with any content published on this website